Hyperlocal social media marketing strategy to target local audiences
Today social media is one of the most profitable digital marketing tools
Social media has a large user base approx 4.63 billion
Check the data
| | |
| --- | --- |
| Social Media Platform | User base |
| Facebook | 2.96 billion |
| Instagram | 1.5 billion  |
| Pinterest | 445 Million |
| Twitter | 368 Million |
| LinkedIn | 310 million |
We can target a large social media user base for global brands.
but for local businesses?
And for super local businesses?
Yes of course we can target super local businesses with hyperlocal social media marketing strategy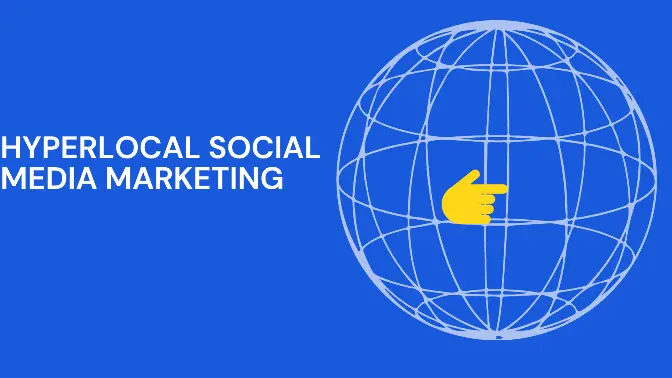 Hyperlocal social media marketing
Hyperlocal social media marketing strategy is to target a particular location
Like – City or Place within the city
It works with a targeted approach to build an audience or group in the local area
Definition– Hyperlocal social media marketing refers to the practice of using social media platforms to target and engage with potential customers within a specific geographic area, usually a neighborhood or a local community.
This strategy focuses on creating content, running campaigns, and building relationships with the local audience
To increase sales for local businesses
Hyperlocal social media marketing takes advantage of the fact that people are more likely to engage with content that is relevant to their immediate surroundings and community.
Why Hyperlocal Social Media Marketing Matters for Local Businesses?
Local businesses, such as –
brick-and-mortar stores
restaurants
salons, and service providers
rely on their local community for customers
Using this strategy
local businesses can effectively target and engage with their local audience
build brand awareness
generate leads, and convert them into paying customers
There are the following reasons why hyperlocal social media marketing matters for local businesses
Better Reach:-
This strategy allows local businesses
to reach out to potential customers within a specific geographic area
which increases the chances of generating relevant leads and conversions.
Enhanced Engagement:-
When local businesses create content to target their local audience
it leads to higher engagement levels
including likes, shares, comments, and reviews, which can boost brand awareness and loyalty.
Improved Customer Relationship:-
Hyperlocal social media strategy provides local businesses with an opportunity
to build meaningful relationships with their customers
by engaging with them on a personal level and addressing
their specific needs, concerns, and feedback.
Cost-Effective:-
Hyperlocal social media strategy can be more cost-effective compared
to broader social media marketing strategies
as it allows local businesses to focus their efforts
and resources on a smaller, more targeted audience.
Competitive Advantage:-
By leveraging this strategy
local businesses can gain a competitive advantage over larger, national, or international brands,
as they can connect with their local audience in a more personalized and relevant way.
Strategies for Mastering Hyperlocal Social Media Marketing
I hope you understand the importance of hyperlocal social media strategy for local businesses
let's explore some effective strategies that can help local businesses master this approach and drive growth.
Know Your Local Audience:
The first step in mastering hyperlocal social media marketing is to understand your local audience.
Research and analyze your target audience's demographics, behaviors, preferences, and pain points specific to your local community.
This knowledge will help you create content that resonates with your local audience and drives engagement.
Create Relevant and Engaging Content:
Content is king in social media marketing, and this strategy is no exception.
Create content that is relevant to your local audiences, such as local events, news, stories, and promotions.
Use a mix of text, images, videos, and other interactive formats to make your content engaging and shareable.
Leverage Local Influencers:
Influencer marketing can be a powerful tool in hyperlocal social media strategy.
Identify and collaborate with local influencers who have a significant following in your local community.
They can promote your business, create content, and drive engagement among their local audience.
Run Hyperlocal Campaigns:
Create and run hyperlocal campaigns on social media platforms to promote your local business.
For example, you can run location-based contests, giveaways, or promotions that are exclusive to your local audience.
You can also create targeted ads that are only shown to people within a specific geographic area to maximize your reach and engagement
Engage with Your Local Audience:
Actively engage with your local audience on social media by responding to comments, messages, and reviews.
Show genuine interest in their needs, concerns, and feedback.
Ask for their opinions, suggestions, and recommendations.
This will help you build a strong relationship with your local audience and establish trust and credibility for your business.
Use Geotags and Local Hashtags:
Geotags and local hashtags are powerful tools in hyperlocal social media marketing.
Use geotags in your posts to tag your business location, and encourage your customers to do the same when they visit your establishment.
This will help your posts to appear in the search results when people search for content related to your local area.
Also, use local hashtags in your posts to increase your visibility among the local audience who follow or search for those hashtags.
Collaborate with Local Businesses and Organizations:
Collaborating with other local businesses and organizations can expand your reach and amplify your hyperlocal social media marketing efforts.
Partner with complementary businesses or organizations in your local area to cross-promote each other's content, share each other's posts, or co-host local events.
This can help you tap into each other's audience and gain more exposure.
Monitor and Analyze Your Results:
Regularly monitor and analyze the performance of your hyperlocal social media strategy efforts.
Keep track of your engagement metrics, such as likes, shares, comments, and conversions.
Use analytics tools provided by social media platforms to gain insights into your audience's behaviors, preferences, and demographics.
Use this data to refine your strategies and optimize your campaigns for better results.