Facebook, one of the largest social media platforms in the world, has been a major part of people's daily lives since its launch in 2004.
Over the years, Facebook has seen incredible growth, and as of 2023, it has over 2.93 billion, active monthly users.
With such a large user base, Facebook has become a rich source of data and insights into human behavior, preferences, and trends.
In this article, we'll take a look at some of the most interesting statistics about Facebook, including its user demographics, engagement, and revenue.
These statistics provide valuable insights into how Facebook is being used and the impact it has on society and the world at large.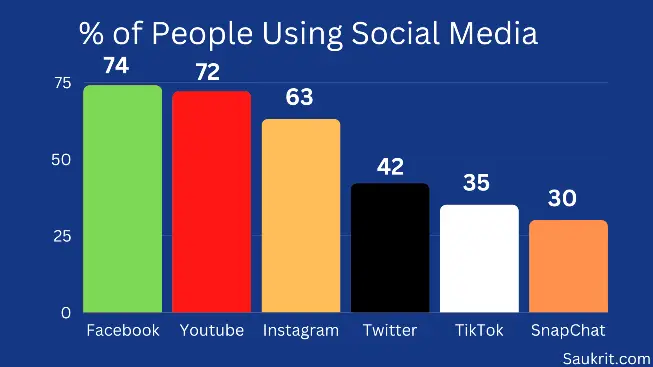 Global Facebook Usage Statistics
Facebook is the world's largest social network with 2.91 billion monthly active users as of the second quarter of 2023, according to Statista.
The platform is available in more than 100 languages, which contributes to its global reach.
According to Datareportal, about 63% of the global population aged 13 years and older are Facebook users.
On average, users spend about 38 minutes per day on Facebook, highlighting the platform's engagement potential.
According to Sprout Social, 74% of high-income earners use Facebook, making it an excellent platform for targeting affluent consumers.
Facebook Demographics
The largest user group on Facebook is aged 25-34, making up 26.3% of the global user base.
56% of Facebook users are male, while 44% are female.
According to the Pew Research Center, nearly 70% of U.S. adults use Facebook, and 74% of them visit the site daily.
In the U.S., 75% of women and 63% of men use Facebook.
Among U.S. teenagers, Facebook is the fourth most popular social platform after YouTube, Instagram, and Snapchat, with 51% of them using it.
Facebook Mobile Statistics
Over 98% of active user accounts accessed the social network via a mobile device.
As of the second quarter of 2023, Facebook had 2.85 billion mobile-only monthly active users.
Facebook accounts for over 22% of mobile internet ad spend worldwide.
According to App Annie, Facebook is the most downloaded app of the decade.
94% of ad revenue is from mobile.
Facebook Advertising Statistics
Facebook has over 10 million active advertisers.
The average price for an ad decreased by 4% in 2022.
Facebook's advertising revenue in the second quarter of 2023 was $28.58 billion.
The average conversion rate for Facebook ads across all industries is 9.21%.
Photo ads are the most popular ad type on Facebook.
Facebook Video Statistics
Facebook generates more than 8 billion video views daily.
85% of Facebook users watch videos with the sound off.
71% of people find Facebook video ads relevant and informative.
Posts with videos attract 38% more engagement than image posts.
Video posts get at least 59% more engagement than other post types.
Facebook Engagement Statistics
The average engagement rate for Facebook posts is 3.22%.
The most engaging Facebook posts are short, with between 0-50 characters.
Posting on Wednesday and Thursday can give you the highest engagement rate.
The best time to post on Facebook for maximum engagement is between 9 am and 2 pm EST on weekdays.
Facebook users are 1.5x more active on the platform during holidays, creating opportunities for themed marketing campaigns.
Facebook for Business Statistics
There are more than 200 million small businesses using Facebook's tools.
Facebook's potential advertising reach is 1.9 billion people, making it a powerful platform for businesses of all sizes.
42% of businesses on Facebook are based in the suburbs, while 33% are in cities, and 25% are in rural areas.
The top industries on Facebook are e-commerce, retail, and fashion.
According to a survey, 30% of consumers would make purchases directly through Facebook.
Facebook E-commerce Statistics
Facebook Marketplace has over 1 billion users, presenting a significant opportunity for businesses to sell products directly through Facebook.
70% of shopping enthusiasts turn to Instagram and Facebook for shopping.
According to Facebook, 87% of people surveyed say they took action, like making a purchase, after seeing product information on Facebook.
Shoppable posts led to a 1.5x increase in online conversions.
78% of American consumers have discovered retail products to buy on Facebook.
Facebook Stories Statistics
As of 2023, over 500 million people use Facebook Stories daily.
62% of people said they became more interested in a brand or product after seeing it in Stories.
Facebook Stories have a 5.2% conversion rate, compared to the 2.2% rate of News Feed ads.
About 62% of businesses say that Facebook Stories have helped increase brand awareness.
Ads in Facebook Stories have a view-through rate of 0.84%.
Facebook Group Statistics
There are over 10 million groups on Facebook.
Over 1.8 billion people use Facebook groups every month.
About 35% of Facebook's entire user base are members of at least one group.
Groups that users interact with most frequently appear higher in News Feed.
According to Facebook, users who are part of meaningful communities on Facebook could double by 2023.
Facebook Content Statistics
The most popular type of content on Facebook is video, followed by images.
Facebook posts with images see 2.3x more engagement than those without images.
The optimal size for Facebook post images is 1200×630 pixels.
Facebook posts with questions generate twice the engagement of regular text posts.
Posts published on Sunday get more shares on average.
Facebook in the Future: Predictions and Trends
Facebook's ad revenue is expected to reach $39.42 billion in 2023.
Mobile advertising revenue is forecasted to account for 92% of total ad revenues by 2023.
By 2023, it's expected that the number of Facebook users in the U.S. will reach 237.8 million.
The number of businesses using Facebook Messenger for customer service is expected to grow by 143% by 2023.
By 2023, over half of Facebook's ad revenues will come from outside the US.
Facebook Influencer Marketing Statistics
Facebook ranks as the second most important platform for influencer marketing.
70% of influencers consider Facebook to be an effective platform for collaborating with brands.
Branded content ads with influencers have an average ROI of $5.20 for every dollar spent.
68% of marketers plan to increase their Facebook influencer marketing budgets in 2023.
According to a survey, 48% of consumers made a purchase after seeing an influencer's branded content on Facebook.
Facebook Live Statistics
Facebook Live videos produce 6 times as many interactions as traditional videos.
Live videos account for 20% of all Facebook videos.
Users watch Facebook Live videos 3x longer than pre-recorded videos.
80% of Facebook users would rather watch a live video from a brand than read a blog post.
Daily watch time for Facebook Live broadcasts has grown by more than 400% year over year.
Facebook Chatbot Statistics
There are over 300,000 active chatbots on Facebook Messenger.
56% of businesses using chatbots for customer service report an increase in customer satisfaction.
Facebook Messenger chatbots have an 80% open rate and a 20% click-through rate, significantly higher than email.
Chatbots are expected to drive $112 billion in retail sales by 2023.
By 2023, 90% of businesses are projected to use chatbots for customer service on Facebook.
Facebook Event Statistics
Over 700 million people use Facebook Events each month.
35 million people view a public event on Facebook each day.
52% of event marketers use Facebook Ads for event promotion.
38% of users have used Facebook to RSVP to an event.
Posts promoting events with a date in the future get 30% more engagement.
Facebook News Feed Statistics
The average organic reach for a Facebook post is about 5.2%.
57% of Facebook users say they regularly get news on the platform.
Facebook prioritizes posts from friends and family over business content in the News Feed.
Link posts get more shares than other types of posts.
News Feed ads have an 8.1x higher click-through rate than Right Column ads.
Facebook Customer Service Statistics
78% of consumers have used Facebook to reach out to a company for customer service.
Companies respond to only 10% of customer inquiries on Facebook.
33% of customers would recommend a brand that provided a quick but ineffective response.
The average response time for brands on Facebook is 10 hours, but users are willing to wait only 1-4 hours.
80% of companies plan to use Facebook Messenger for customer service in 2023.
Facebook Privacy and Security Statistics
51% of Facebook users say they are very or somewhat concerned about their personal information being sold to third parties.
Facebook removed 1.7 billion fake accounts in Q2 2023.
94% of Facebook ad revenue is from personalized ads.
Facebook users can choose from more than 200 options to personalize their ad experience.
64% of Facebook users have changed their privacy settings in the past year.
Facebook Workplace Statistics
Workplace by Facebook is used by over 30,000 organizations.
The top industries using the Workplace are retail, technology, telecommunications, entertainment, and media.
68% of Workplace users say the platform has improved their productivity.
85% of businesses using Workplace have seen an increase in internal communication efficiency.
By 2023, it's expected that 30% of all businesses will utilize social networking tools like Workplace by Facebook for employee collaboration.
Facebook Cryptocurrency Statistics
Facebook's cryptocurrency, Diem (formerly known as Libra), is set to launch in 2023.
Diem aims to reach 1.7 billion people who are currently unbanked.
Diem is backed by a reserve of real assets and a network of exchanges for keeping the value stable.
Diem could potentially revolutionize Facebook's e-commerce and payment gateway strategy.
According to a survey, 18% of adults worldwide are interested in using Diem.
Facebook Augmented Reality (AR) and Virtual Reality (VR) Statistics
Facebook Reality Labs, the company's AR and VR team, is working on the next computing platform centered around people.
Facebook's Oculus Quest 2 sold more than 1 million units within 7 months of its launch.
28% of marketers believe that Facebook will become the leading platform for AR/VR.
Facebook has invested over $10 billion in AR and VR projects.
Facebook is planning to launch smart glasses in partnership with Ray-Ban in 2023.