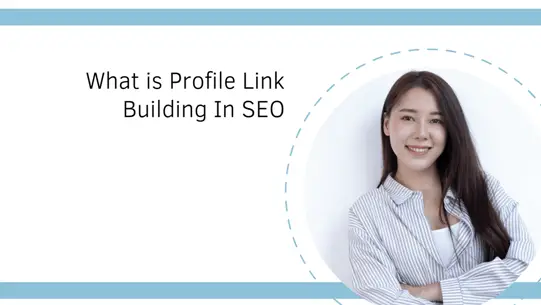 Profile link building is one of the best methods to get quality backlinks. When you create a profile on social sites, news sites, job sites, game sites, forum sites, blog sites, or profile sites they allow you to place your website or blog link in your profile.
Once your profile is live for the public view then anyone can see your public profile. If anyone clicks on the link he will directly reach your website or blog.
Importance of Profile Link Building:
Profile linking fulfills the Following purposes of SEO
1- It brings quality traffic to your sites
2- Provide Authority backlinks that help to improve off-page SEO.
3- Improve the trust flow of the URL
4- Increase URL rating
5 Improve the ranking of the website on search engine result page
How Profile Link Building Improves off-page SEO:
The main component of off-page SEO is Quality backlinks. Authority backlinks improve the trust flow of the website as well as improve domain ratings.
Although you follow any of the tools like – Semrush, Aherfs, Moz, Majestic
They all will show you improvements in your site if you are getting quality backlinks.
For the test, select the top high DA PA profile linking website and start creating a profile with your blog link and see the result in three months.
Why I mentioned three months because some links take time to get indexed. Until and unless the link did not index you will not get link juice.
How Profile Linking Improves Ranking:
Ranking on a search engine page depends upon various factors and backlink is one of them. here I will let you know how? profile linking helps in rank improvement on SERP.
There is the following method with that profile linking improves ranking.
1- By Improving Click through rate: As we know some quality sites have their own constant traffic. If you create a profile on their website your profile link will get clicked various times.
Once any reader clicks on your link google counts it as one click and improves the click-through rate.
If you check the google ranking factor you will get a click-through rate is one of the ranking factors.
2- By improving trust flow: Quality backlinks increase trust flow. Search engines like Google like good trust flow of the website.
A real and genuine website should have a good trust flow and spam free. It's one of the most important demands of search engines.
3-By Improving URL rating: When you create a quality profile link you find your UR rating improves constantly. and that helps to improve ranking over the SERP.
Does profile link building still work in 2022:
Now the question arises does profile link building still work in 2022 after various updates of Google like Penguin and Panda?
Friends profile link building is all weather important ranking factor. Yes, of course, it's still work in 2022. Even backlink is the most important part of SEO.
Search engine. confirm various times backlink is a trust vote that helps to increase the blog ranking of the website.
Profile linking is a free-quality backlink. so definitely it helps to improve the ranking of the website.
If you have a new website it will take time to rank over the SERP so don't get confused.
Follow the SEO rules and create a quality profile that will help you to get a quality backlink and ultimately fulfill your goal of quality traffic.
Quality link-building sites list:
Profile creation: As I explained above it's one of the most important link-building methods.
Social Bookmarking: Social bookmarking also helps in off-page SEO.
PDF Submission: PDF submission provide you with viewers as well as a quality backlink.
web 2.0 sites: Very popular method to write a free blog and create quality content. That help to boost your content as well as provide a quality backlink.
Image Submission: It's also a unique method to get quality backlinks. you just need to submit an image along with your blog link.
Business Listing Sites In India: There are various sites that allow you to submit your business at their sites with the business website link.
Article Submission Sites List: Article submission sites is a free site where you can submit your blog post
Forum Submission Site: Forums are a place where various topics are discussed by users and experts. You can also join various forums and can get quality backlinks by referring your site as help to users.
Search Engine Submission: Search engine submission is not to get backlinks it is to index your blog on a search engine platform.
Guest Posting Site: The most important white hat SEO. Guest posting is important for content building as well as helping to get quality backlinks.
Classified Submission sites: There are various sites that allow you to advertise for free.
Question & Answer Websites List: These sites provide answers to all fields.
Press Release Submission sites: Provide a quality backlink
Free Blog Sites List: Help to create your own free sites.
Conclusion: Profile linking is one of the best methods to get quality backlinks you should not be worried about spamming. as these sites are real and provide you with real quality backlinks.
They have proven various times they have the potential to improve the ranking of the website. on SERP.
Most searched keyword – What is a Self-Hosted Blog, Law Firm SEO Services