TikTok is the fastest-growing social media app in the present times. Especially, during the times of Covid, the number of TikTok Users, according to Statista, jumped from 680 million to 1.1 billion in 2021. But, why we are discussing TikTok user statistics? We know that our readers must be baffled today! So, let us let the cat out of the bag!
However, TikTok has been banned in India, but Saukrit SEO is a global organization with an international clientele. So, we are dedicating this blog to our International clients to help them understand the importance of TikTok marketing in 2023.
Moreover, Indian readers must also acknowledge TikTok as a boon for business and must learn social media marketing techniques from this blog. So let us begin with the most important TikTok Analytics.
Important TikTokUser Analytics 2020-2023
Being a community of business people, it is important for us to see TikTok as the best possible social media marketing platform. And this is the only reason why we are discussing TikTok analytics today. Business is for people and marketing is the heart, soul, and life of any business. Advertising is the only means to promote our products to the TG and allure them to buy from us.
Gone are the days when marketing was limited to television commercials and newspaper advertisements. Today, we have a wide ocean of advertising platforms to choose from. While the public was engaged with the televisions and newspapers earlier, today social media platforms have cast an everlasting spell on the audience.
Therefore, advertising on social media platforms is a judicious step. Additionally, using TikTok marketing is an even smarter step as TikTok is the fastest-growing social media app presently.
So, keep a printout of your business model and target audience handy while reading this blog, and have a look at the following TikTok User Data–
TikTok Users by Nationality
According to TikTok itself, TikTok is available in over 150 countries for download worldwide. However, the maximum number of downloads comes from its homeland China, the other big countries are also not far behind. In fact, after its launch in 2017, India emerged as the most significant country in helping TikTok gain popularity in 2019 with over 320 million national downloads.
Figure 1 TikTok Users Nationality
Not even could the United States of America escape the charm of TikTok and after India, the USA houses the maximum number of TikTok users (120.8 Mn) after China (700 Mn). America is followed by Indonesia, Brazil, Russian Federation, Mexico, and Vietnam. In a nutshell, one wise business person can easily judge that TikTok marketing is the best way to reach an international audience. From developing to developed nations, no one is behind!
TikTok Users by Sex
According to the reports from TikTok, the number of users is most evenly spread. TikTok has admitted in a report that 56.2% of its audience includes female users whereas the remaining 43.8% are male users.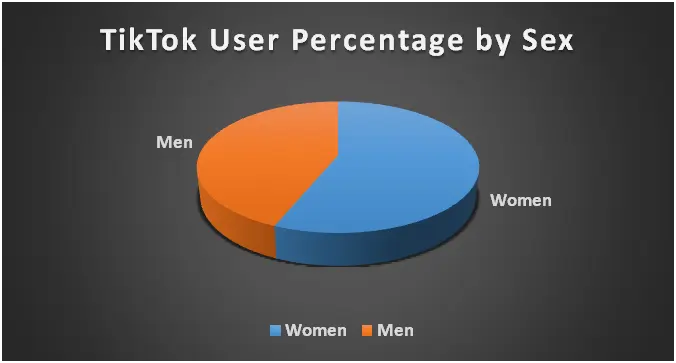 Figure 2TikTok Users by Sex
Unfortunately, TikTok discloses no information about transgender users. However, it is evident already that the audience includes people of all sexes and all nationalities.
TikTok Users by Age Groups
Apart from the above stats, when it comes to understanding the target audience, knowing the age demographics is also important. And the best part about TikTok is that its audience comprises people aged from 10 to 50+. According to Statista in the US-
25% of the TikTok users are aged between 10-19
22.4 % are between 20-29 years of age
21.7% are between 30-39
20.3% are between 40-49 and
11% of users are 50+ in their age
100s of profiles on TikTok from youth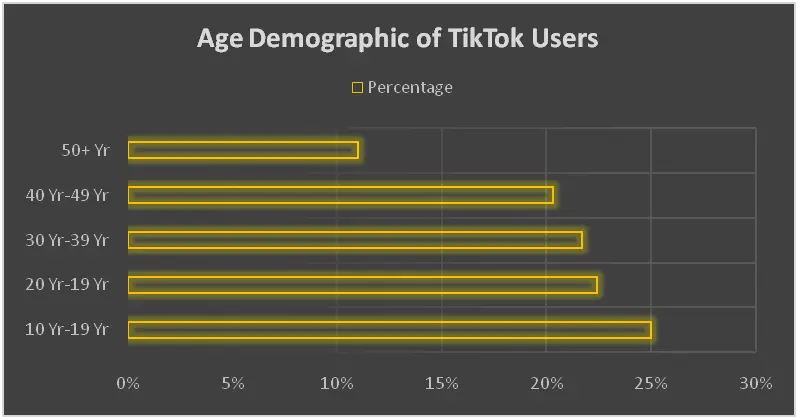 Figure 3 TikTok Users by Age Group
Eventually, TikTok offers a wide range of Target audiences to pitch. Moreover, it has almost evenly distributed male and female users. Therefore, we can see TikTok as the best social media platform for online marketing and business promotion. Statista also claims that the proportions are next to similar in other popular countries as well.
TikTok for Business Tip
So, if you have an operating branch in a country other than India and Pakistan, then you must use TikTok marketing for your business in those countries. No matter what type of target group you have, TikTok houses the most versatile and diverse audience from all over the world. Additionally, the maximum number of TikTok influencers are also from low-income family groups but their popularity is at its peak. Eventually, you may get a bargain while advertising your products with an influencer marketing technique.
TikTok Engagement Stats: Popular Categories & Genres
According to TechCrunch, a popular data platform, young users spend more time on TikTok. Especially, TikTok is most popular among the generation belonging to the last 2 decades aka Gen Z. As per the study from a popular marketing agency, Online Optimism, the Gen Z attention span is as short as 8 seconds.
Moreover, most businesses target a young audience for their business. Eventually, adjusting brand promotion advertisements as per the Gen Z attention span is vital, and TikTok already offers 10-30 secs of content timing. Also, the most popular TikTok Categories include-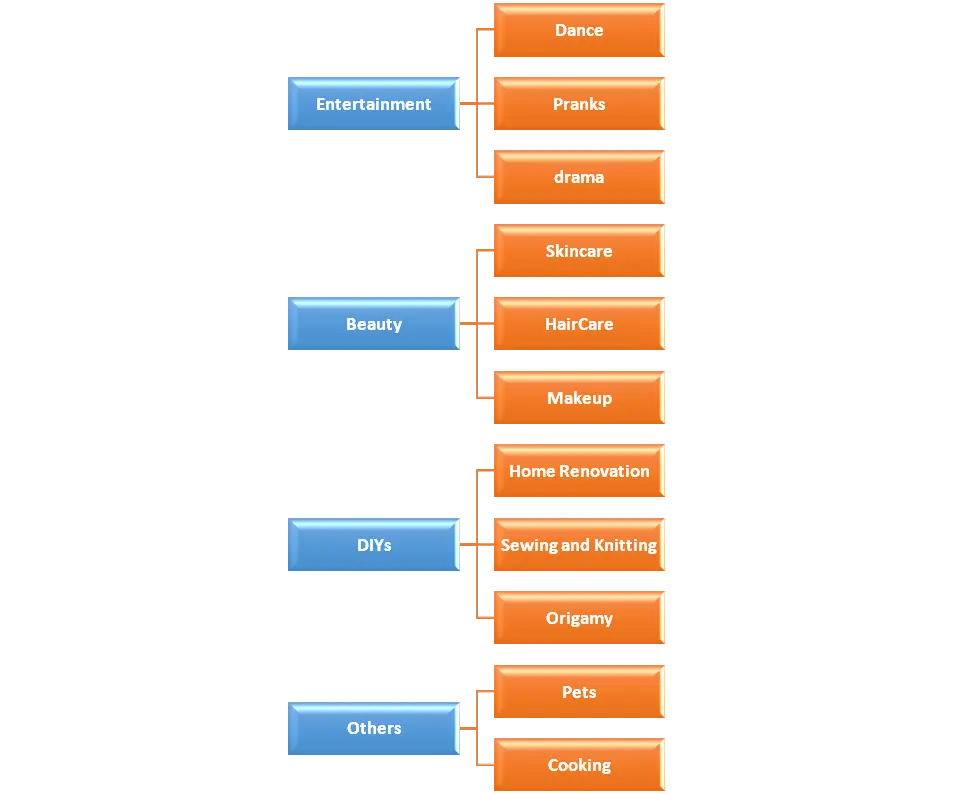 Figure 4 Popular TikTok Categories
Interesting Facts about TikTok Engagement Rate
Apart from this, some interesting TikTok stats also include-
Almost 90% if of the users log in to their app daily.
Additionally, the platform has an 11.7% of engagement rate, outperforming Instagram reels by 6X.
Also, the average comment rate on TikTok is 0.09% which is 2X of Instagram.
Moreover, an average user spends around 52 minutes per day on the TikTok app, whereas the average time spent per month equals 28.7 hours as per the latest data available!
There are 1000 websites where you can make backlinks for tik tok
TikTok Download Stats
Not only in its homeland China but also in other developing to developed nations TikTok downloads far surpass the number of downloads of any other app. The recent reports from Demandsage.com, a popular data and insight platform, showed that the number of TikTok downloads in 2016 was 68 million. The number of downloads reached 68 to 672 million in 2022, depicting approximately an 889% increase in the number of downloads.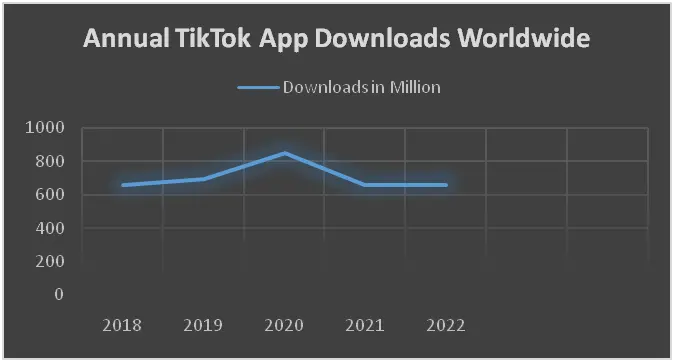 Figure 5TikTok App Downloads Per Year Globally
Moreover, year by year, TikTok becomes one of the most downloaded social media apps far surpassing Facebook, YouTube, Twitter, and even Instagram. The popularity of TikTok is well-evident from such an astonishing download rate. Although towards 2022 the download bar has sloped a bit it is due to the fall in the amount of available time. Also, since, the app has already been downloaded on numerous smartphones, there is no need to download it for a couple of years now.
TikTok Revenue 2023
Apart from the above stats, the most interesting fact about TikTok is its revenue. And why we are discussing its revenue, you will understand when we jump to our 'What's Up for the Indian Businesses' section! Did you know that during the time of the pandemic, e-commerce platforms and social media apps bagged the largest revenues in the world? Talking about TikTok, in 2019 it made $370 Mn in revenue.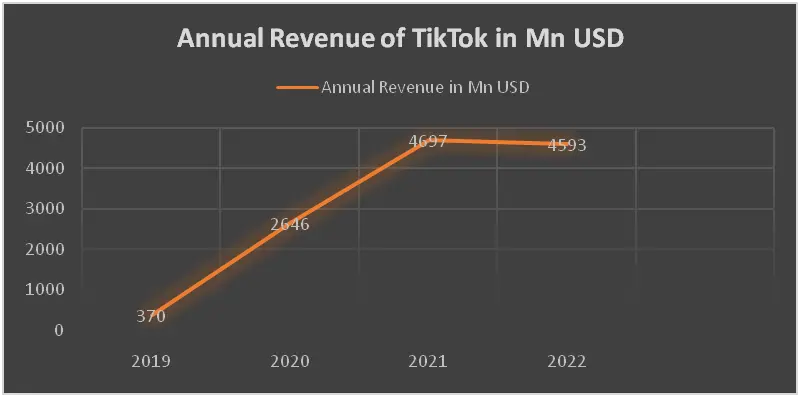 Figure 6 Global TikTok Annual Revenue
The pandemic broke towards the Q4 of 2019, and the revenue for Q4 in 2019 was the largest equalling $167 Mn. Later TikTok made $2,646 Mn in 2020, $4,697 Mn in 2021, and $4,593 Mn (excluding Q4 results) in 2022! Excited? So we are!
Why TikTok is So Popular Among People?
1.    TikTok Offers Short Content Duration to Appeal to the Short Attention Span
As already discussed, the Gen Z attention span is hardly 8 seconds. The young generation demands versatile and new fresh content every time they turn to entertainment. TikTok offers video content of 10-30 secs which makes it highly popular among the young generation. However, even the older generation is now turning to TikTok content due to its newness and short duration.
2.    TikTok Benefitted from the Pandemic and Resultant Leisure
Like the e-commerce platforms, TikTok also benefitted from the pandemic and the resultant lockdown. During the lockdown period when people had no access to malls, markets, and even television shows, social media platforms and the video content platforms like YouTube and TikTok benefitted the most. These platforms gave many new influencers and social media stars to the world.
3.    TikTok is Royalty Free
Surprisingly, TikTok also outperforms YouTube. It is because TikTok offers royalty-free music to use in the videos. Eventually, the TikTokers coming from entertainment Genres, prefer TikTok over YouTube which is not royalty free. It makes it easier for entertainers to showcase their talent without the fear of penalty.
4.    TikTok is "Real-like Smart"
TikTok algorithms use AI, but it still has human-like intelligence. If a video is passed in a few seconds, a video of a similar type will not appear again in the queue. However, other social media apps also utilize such AI techniques, but the precision of TikTok's AI is commendable.
5.    TikTok has the Easiest and Most Engaging User Interface
Moreover, TikTok offers a myriad of inbuilt filters, video editing, and music-adding features with an easy user interface. So, even users who are not really tech-savvy can use TikTok without any hesitation. Eventually, that is the reason why this platform is so popular among all kinds of age groups.
6.    TikTok is Different and Unique
Most importantly, TikTok is popular because it is different from other social media apps. It offers pure video content entertainment. Also, it is royalty-free. Moreover, TikTok provides only a 30-sec span for one piece of content. Therefore, the specific focus of TikTok on short duration and video content type makes it different from others.
All these reasons give TikTok an edge over other platforms!
How to Use TikTok Analytics to Grow Business in 2023?
Coming to conclusion, TikTok is a perfect platform for online marketing with its vast reach and grip on a versatile audience and constantly growing popularity. Therefore, brands can benefit a lot from TikTok marketing.
TikTok for International Businesses
The businesses having international presence are the luckiest for TikTok marketing. Especially, if you want to pitch your products in USA, Russia, or Indonesia, then TikTok is clearly the best platform for online marketing. Additionally, if you are from the entertainment or consumer goods industry, then you may benefit the most from TikTok marketing. So, order your international marketing team today to download TikTok and start creating content for international marketing.
What's Up for the Indian Businesses?
However, if you are based only in India, still you have many things to learn from the above-mentioned TikTok analytics. What if you cannot download TikTok, you still can benefit from its business model and analytics. Not sure? Pay attention to the following facts-
Today, audiences like short video content. What if you do not have access to TikTok? Go with YouTube shorts and Instagram reels for online marketing with short videos.
Also, it is evident from the discussion above that social media platforms are the fastest-growing marketing medium for businesses. Eventually, if you can't get TikTok there is still Facebook, YouTube, Instagram, and even Twitter left for you! All these platforms offer myriad video edits, music, and filters to create engaging social media videos.
Are you from the IT industry? Do you have expertise in web and mobile app development? Then why have you not tried building an Indian version of TikTok? Indian CamScanner, PDF maker, and even beauty camera apps are already popularizing in India and abroad. Then why no one has thought of creating a TikTok-like platform? Well, if you are associated with us, you are a lucky reader! We have provided you with a billion-dollar business idea free of cost!
Final Thoughts
So, all in all, TikTok is an astonishing phenomenon for the whole world. On one hand, businesses having an international presence can benefit a lot from TikTok marketing, on the other hand, the countries where TikTok is not available for download can take inspiration from its content type. Additionally, IT companies can plan to develop an Indian version of TikTok to conquer the global markets!