MrBeast is a popular US-based YouTuber, social media influencer, and digital marketer
Due to his popularity, every digital marketer wants to know his net worth
Dear friends MrBeast has a net worth of $105 million
And most amazing fact about his net worth is he earned all his money from youtube and other online platforms
The real name of MrBeast is Jimmy Donaldson you can find his Wikipedia page.
He started his youtube journey in 2012 and now after 11 years in 2023 he has 139 million subscribers
Let's know about MrBeast
Who is MrBeast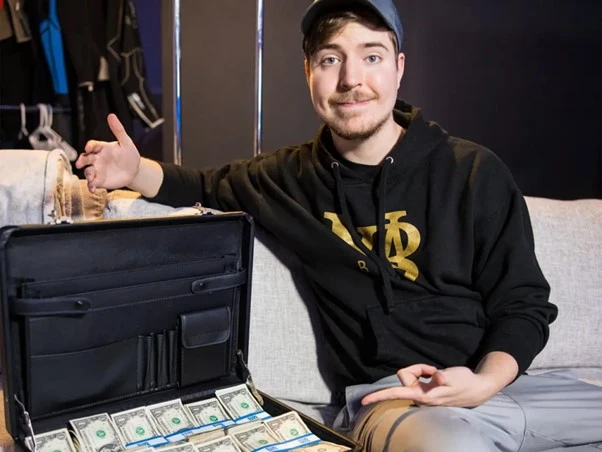 MrBeast (youtube), the Real name Jimmy Donaldson, is a well-known YouTuber, philanthropist, and entrepreneur.
He is famous for his viral videos and stunts, as well as his generous donations to charity.
With over 139 million subscribers on YouTube, MrBeast has become one of the most popular and influential YouTubers of all time.
As of 2023, MrBeast's net worth is estimated to be around $105 million.
| | |
| --- | --- |
| Real Name: | Jimmy Donalson |
| Net Worth: | $105 million |
| Date of Birth: | May 7, 1998 |
| Birth Place: | Kansas, United States |
| Gender: | Male |
| Nationality: | American |
| Height: | 1.89m (6′ 2″) |
| Status: | Single |
| Partner: | Maddy Spidell |
| Profession: | YouTuber, Businessman, and Philanthropist |
MrBeast YouTube channel (main channel) has over 139 million subscribers, as of March 2023
Over 18 million people follow MrBeast on Twitter
Over 11 million people follow him on Facebook
MrBeast has over 23 million followers on Instagram
Popular among Fans as "Snata of youtube"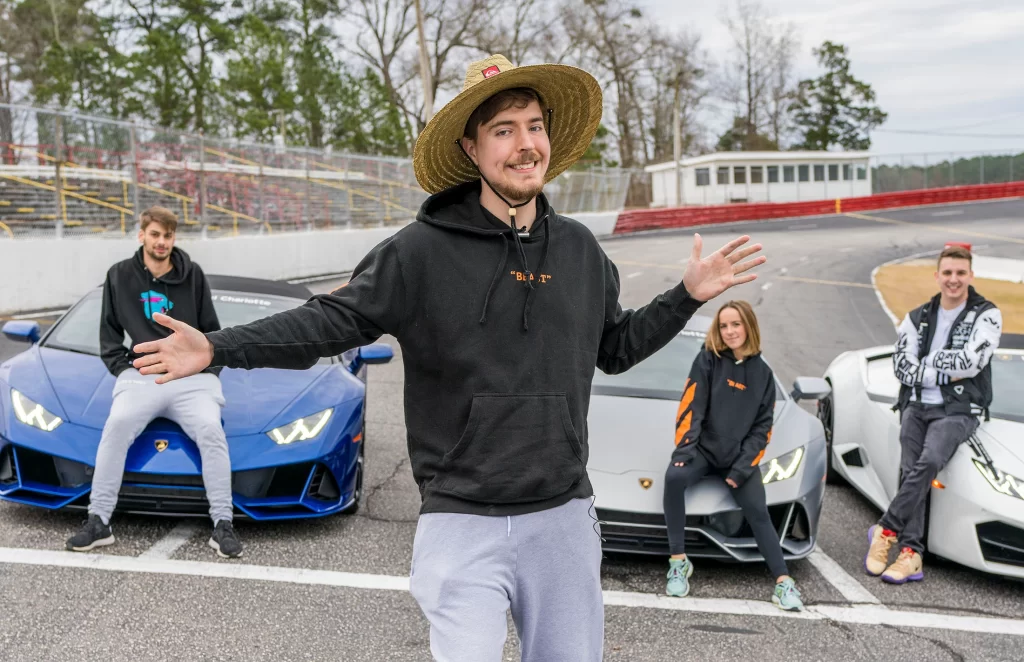 Donation and Giveaway
Raised $20 million to plant 20 million trees
Donated over 100 cars, including Lamborghini 
Gave away a private island
Ran a marathon in the world's largest shoes
Gave away 1 million dollars in one video and did many more of such crazy stuff
MrBeast YouTube Subscriber Milestones stats
Here are some of the most important YouTube subscriber milestones of the MrBeast channel.
| | |
| --- | --- |
| Date | Subscriber Milestones achieved |
| April 2014 | 1000 |
| August 2015 | 5,000 |
| October 2015 | 10,000 |
| June 2016 | 50,000 |
| July 2016 | 100,000 |
| May 2017 | 1 million |
| May 2018 | 5 million |
| November 2018 | 10 million |
| June 2019 | 20 million |
| February 2020 | 30 million |
| August 2020 | 40 million |
| January 2021 | 50 million |
| April 2021 | 60 million |
| Sep 2021  | 67 million |
| July 2022 | 100 million |
| March 2023 | 139 million |
As you can see above, MrBeast went from 1 million to over 139 million subscribers in around just five years.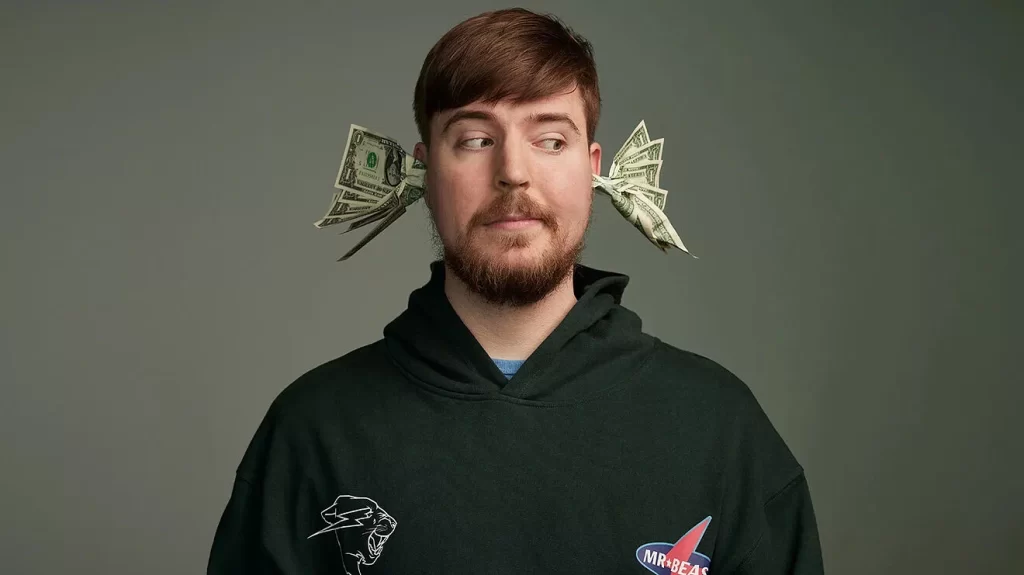 MrBeast Net Worth 2023
MrBeast started his YouTube channel in 2012, uploading videos of himself playing video games.
However, it wasn't until he started doing outrageous stunts and giving away large amounts of money that his channel took off.
Some of his most popular videos include
"I Gave Away $1,000,000 to Random People,"
"I Bought Everything in a Store – Challenge,"
"Last To Leave Circle Wins $100,000."
MrBeast's success on YouTube has led to many opportunities outside of the platform.
He has partnered with several brands, including Honey, Microsoft, and Quidd, and has also launched his merchandise line.
In addition, he has started his own production company, Beast Studios, which produces content for YouTube and other platforms.
So, how much is MrBeast worth in 2023?
According to Celebrity Net Worth, MrBeast's net worth is estimated to be around $105 million.
This number is based on his YouTube earnings, brand partnerships, merchandise sales, and other sources of income.
However, it's worth noting that MrBeast is known for his extravagant spending and generosity, so his actual net worth may be higher or lower than this estimate.
Some of the titles of MrBeast's most popular videos:
$456,000 Squid Game In Real Life! (over 376 million views)
I Spent 50 Hours In Solitary Confinement (over 247 million views)
I Put 100 Million Orbeez In My Friend's Backyard (over 181 million views)
Anything You Can Fit In The Circle I'll Pay For (over 209 million views)
I Spent 50 Hours Buried Alive (over 245 million views)
I Ate A $70,000 Golden Pizza (over 193 million views)
If You Click This Video I'll Give My Friend .001$ (over 168 million views)
Rise of MrBeast
Mr beast started uploading videos in 2012 it took almost 2 years to gain the first 1000 subscribers
In some videos where he counted to extremely high numbers, such as "Counting to 100,000" and "Counting to 200,000." These videos helped him gather a small following on YouTube
once he crossed 5000 subscribers he never look back
he created unique and attention-grabbing content
including stunts, challenges, and large-scale philanthropic efforts
Initially, it wasn't easy to grab subscribers but once he crossed the 10000 milestone
he achieved popularity and subscribers easily.
MrBeast's Wealth Journey
Initially, Mrbeast earns money through youtube monetization
Later he collaborated with many brands and franchises
In addition to his YouTube success, Mr. Beast has also ventured into other business opportunities.
He has launched his merchandise line, which includes clothing and accessories featuring his brand,
"Beast" burger restaurants, and other entrepreneurial endeavors.
These ventures have provided additional income streams and have contributed to his overall wealth accumulation.
Diversification and Growth
Mr. Beast has been known to diversify his income streams and continuously seek out new opportunities for growth.
He has expanded his content beyond YouTube, exploring other platforms such as TikTok, Instagram, and Twitter, and has continued to innovate and create new types of videos to engage his audience.
This diversification and focus on growth have contributed to his ongoing success and wealth accumulation.
MrBeast's Impact on Social Media and Finances
People love to watch his videos as he uploads video it becomes viral
due to his influential and engaging content, he is getting a lot of attention from social media
as a result, he is able to create more wealth and improve his finances
Conclusion:
There is a lot to learn from MrBeast like never giving up
Initially, it was difficult for him also like other YouTubers
but he is consistent and able to create viral content