Niche-specific backlinks improve search engine ranking aggressively as a result SEO specialists use niche-related backlinks to improve keyword ranking.
Friend, do you want to know about niche-related backlinks and what should be your approach while building backlinks for your website or blog?
Then my friends you are in the right place in this article I will explain all about niche backlinks.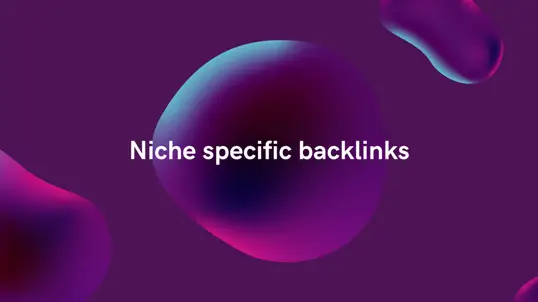 Niche-specific backlinks are backlinks from websites that are relevant to your niche or industry.
These backlinks are considered higher quality because they signify to search engines that your site is a credible source of information within your specific field.
For instance, if you run a fitness blog, a backlink from a well-regarded health and wellness site would be much more valuable than one from a home decor site.
Why Are Niche-Specific Backlinks Important?
Niche-specific backlinks are invaluable for several reasons:
Relevance: Search engines like Google value relevance.
If your backlinks come from related sites, search engines will consider your site more authoritative in your field.
Quality Traffic:
Niche-specific backlinks attract more quality traffic.
Users are more likely to click on a link that is relevant to their interests, which can lead to higher engagement and conversions.
Building Relationships:
By building niche-specific backlinks, you can foster relationships with other leaders in your field. This networking can lead to future collaborations and opportunities.
Now that we've established the importance of niche-specific backlinks let's dive into how to acquire them.
Create High-Quality, Shareable Content
The first step to earning niche-specific backlinks is to create high-quality content that others will want to link to.
Your content should be valuable, unique, and shareable, providing answers to the questions your target audience is asking.
Consider the following types of content that tend to attract backlinks:
Guides and How-to Articles:
Comprehensive, educational content often earns backlinks because it provides value and answers common questions.
Infographics:
These are easy to share and can convey a large amount of information in an easily digestible format.
Original Research or Case Studies:
If you can provide new insights or data in your field, others will likely reference your work.
Identify Potential Linking Sites
The next step is to identify websites within your niche that could potentially link to your content. Consider the following methods:
Competitor Backlink Analysis:
Use SEO tools like Ahrefs, SEMRush, or Moz to analyze where your competitors are getting their backlinks. This can give you a list of potential sites to target.
Google Search:
Search for relevant keywords and see which sites are ranking highly. These are likely authoritative sites within your niche.
Influencer and Blogger Outreach:
Identify influencers and bloggers within your niche. They might be willing to link to your content if it provides value to their audience.
Reach Out for Backlinks
Now that you have a list of potential linking sites, it's time to reach out to them. Here are some strategies:
Guest Blogging:
Offer to write a guest post for another site in your niche. This can provide them with valuable content and give you the opportunity to include a backlink to your site.
Broken Link Building:
Find broken links on other websites and suggest your content as a replacement. You're helping the site owner fix a problem while also gaining a backlink.
Resource Page Link Building:
Many sites have resource pages with links to helpful content. If your content fits, reach out and suggest they include your link.
Remember, when reaching out, always highlight the mutual benefits. Ensure your content is highly relevant and useful to their audience.
Monitor Your Backlinks
Once you start building niche-specific backlinks, it's essential to monitor them.
You want to ensure that they're still active and bringing in traffic.
Using SEO tools, you can track your backlinks and assess their impact on your site's performance.
Additionally, monitoring your backlinks allows you to understand which strategies are working best, helping you refine your backlink-building process over time.
Tips for Building Niche-Specific Backlinks
Here are some additional tips to help you effectively build niche-specific backlinks:
Focus on Quality, Not Quantity:
One high-quality backlink from a respected site in your niche can be worth more than multiple low-quality backlinks.
Be Patient:
Backlink building is a long-term process. It takes time to build relationships, create high-quality content, and earn the trust of other sites.
Stay Relevant:
Always ensure the sites you're targeting for backlinks are relevant to your niche. Irrelevant backlinks can harm your SEO performance.
Follow the Rules:
Never resort to black-hat SEO tactics like buying backlinks. They can result in penalties from search engines.
What is a Niche related backlink?
Backlinks you get from the similar domain of websites that do blogging in the field you are doing blog writing. In actual terms, you can say that it is a backlink from the competitor's website.
This is the easiest way to improve domain authority instantly. Search engines consider niche backlinks as a high pr backlinks
A backlink is the most important ranking factor in SEO but niche backlinking keep the highest weighted from all kind of backlinking methods.
To target high dr backlinks you should be aware of all backlinking methods and approaches as the wrong backlinking method can lead to an increase in spam scores.
Where the natural backlinking methods send positive responses to search engines.
But the question is how to check the health of the backlink and how to gain a natural backlink from the niche websites.
Let's understand it deeply:
The health score is the most important thing in backlinks.
but the problem is there is not any tool designed by Google to check the spam score.
To check the health of the backlink we use SEO tools like SEMrus, Aherf, and Moz, and the health score is determined by some denoted term of these tools like-
Domain Authority
URL Rating
Domain Rating
Authority score
Page Authority score
Page ranking
Spam Score
Domain authority:
Domain authority is a search engine ranking score developed by Moz. It measures the domain authority on the basis of quality backlinks pointing to your domain and the popularity of your domain.
It provides a score on a scale of 0 to 100.
Where 0 tends to be low domain authority and 100 tends to have high domain authority.
Usually above 60 domain authority is considered a good domain authority score. and have a high chance to rank on various keywords.
The backlink from these high-authority websites are called high-authority backlinks and the value of high-authority niche-related backlinks is higher than high-authority general website backlinks.
URL Rating:
URL rating is a web page URL score that shows the strength of the web page and how likely it can rank on the search engine result page.
You can check the URL rating with the Aherf tool that measures the URL rating on the basis of backlinks pointing to a particular web page URL
Domain Rating:
Similar to domain authority Domain rating shows the strength of the website on search engines. The domain rating SEO matrix is designed by the Aherf SEO tool.
This search engine ranking score is measured by the SEO tool on the basis of a do-follow backlink pointing to your domain.
Backlinks from these websites are known as high dr backlinks.
Authority score:
Website strength to rank on the search engine result page is an authority score of the website. The authority score is measured by the SEMrush SEO tool
It measures the authority score of the website on the basis of the backlink strength of the website
A high authority website shows a high chance of keyword ranking.
A do-follow backlink from these high authorities niche-specific websites considers powerful backlinks that can improve your website authority score instantly.
Page authority score:
Page authority score is a search engine ranking score of a particular page. You can check any URL page authority score with SEMrus SEO tools.
Page Ranking:
Page ranking is the rank of a page on a search engine result page. and if you get backlinks from these high pr pages google considers it a high pr backlink.
Spam Score:
A spam score is a Search engine negative score. It shows the weakness of the website. You can measure the spam score with the Moz SEO tool.
You can do a backlink audit of your website with these tools. After the audit of low-quality backlinks, it will produce a spam score for your website.
How to get niche-related backlinks:
Now you know which website has good authority and from which website you should approach for the backlink.
Its obviously good authority website provides high-quality backlinks.
There are the following strategies to attract quality backlinks-
Guest posting: To get the authority backlink from the authoritative website you can do the guest posting. Guest posting is one of the oldest and most tested methods to get quality backlinks.
Research and report publication: Do the research and publish the report it will fetch high-quality backlinks. Bloggers like to quote research reports in their blog
Create a definitive guide: Help your users with the definitive guide. People learn from the guide and cite them in their blogs.
Infographics: Infographic is an image with content. You can include a lot of information in your infographics. An infographic is one of the most link-attractable tools.
Profile link: Select the website of your niche and create a profile to get a high-quality backlink
Now you know which website to target for backlinks and how to target.
Now use any of the SEO tools and analyze your competitor. create a list of your competitors and find niche-related website lists.
Once you have the website of your niche target them for backlinks.
Conclusion:
Always try for quality backlinks. spammy backlinks waste your time and effort. you can increase domain authority with low-quality backlinks but can not rank on search engine result pages.