Profile backlink is one of the easiest methods to get quality backlink. There are various sites available where you can create your profile with proper information.
In this article we will discuss the profile backlink website with help of that our website can rank better.
Profile backlink creation is one of the smart works done by SEO experts. They use these websites properly and provide results to their customers.
As we know due to tough competition in the blogging industry it's not easy to get a rank on search engine result pages.
If you are running a business and not getting quality traffic to your website then what's the use of having a website?
It's better to do offline work. But if you have a website and want to see online sales growth then you need to do the SEO. And to improve SEO you need quality backlinks that you can get from free profile backlink websites.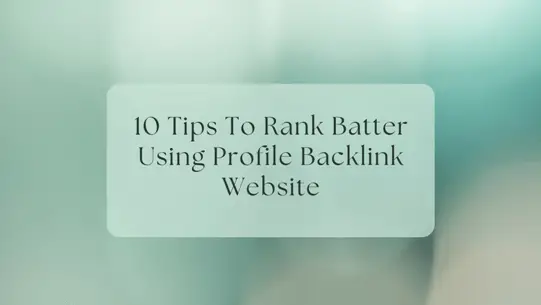 What is a Profile Backlink Website:
Websites that allow you to create profiles with your website information are called profile backlink websites. there are websites that allow you to create a profile on their website.
What they require is just your proper information. Like – Name, Country, Age, Profession, Business website or blog website,
some of them allow creating a profile with multiple URLs like- blog URLs, Social profile URLs,
There you can use your Facebook profile, Twitter Profile, and Instagram Profile, which will help you to increase your social media follower.
Tips to Rank Better:
There are the following tips that you can use-
1- Enter valid and true Information:
Make sure you fill in the correct information while creating a profile on profile creation sites. You know your profile will be available for public view. Providing correct information will increase brand value.
It is up to you how you want to build your brand. Wrong information will create a profile miss match and it will harm SEO in long run.
2- Focus on quality profile sites:
Focus on quality profile sites it gives you a quality backlink and increases trust flow. Don't try to get tons of backlinks that are not recognized by Google.
Try to get backlinks that are recognized by google and provide value to your site.
The focus should not be quantity it should be quality. Profile creation is a gradual process don't try to build it overnight.
3- Contribute to Platforms:
Make sure you are contributing to the platforms where you have created your profile. It will help to create a strong profile.
Every site has its own regular traffic. By contributing you will communicate with them.
Content is the only option to make your profile stronger.
4- Get your account verified:
Unverified accounts get closed soon and you will not get what you wanted. Email verification is required it proves your authenticity.
5- Use Branded Anchor Text:
Using the branded Anchor text improves the SEO of the website and paves the way for ranking. Don't try to make keyword targeted profile.
Make it simple with your name of website brand name.
6- Include a Good Description:
Provide the Description below to the profile as it helps to understand your profile. What you are doing and what services you can provide to your customer?
There you can show your expertise as Google likes an expert.
7- Do the SEO of your profile:
Do SEO for your profile as it can increase your profile visibility. It also improves linked URL trust flow. Every URL needs its own SEO and trust flow.
8- Link your Profile on various platforms:
Link your profile with your various social platforms like Facebook, Twitter, and Instagram. Interlinking among the various profiles improve brand authority.
SEO is just a game of brand identity.
9- Same the work done by you:
Save the work done by you there is no automatic save option.
10- Don't do manual indexing:
Let the profile be indexed in search engines automatically don't do it manually for faster results. SEO takes time so don't be in a hurry.
you will see an increase in traffic slowly.
Important Sites post list to improve Domain Authority
1-Profile creation
2-Social Bookmarking
3-PDF Submission
4-web 2.0 sites
5-Image Submission
6-Business Listing Sites In India
7-Article Submission Sites List
8-Forum Submission Site
9-Search Engine Submission
10-Guest Posting Site
11-Classified Submission sites
12-Question & Answer Websites List
13-Press Release Submission sites
14-Free Blog Sites List
Conclusion:
Profile creation helps to improve SEO in various ways it just doesn't provide a quality backlink. your approach should not be backlink your approach should be SEO.