Social bookmarking provides choices to users they can bookmark content URLs to organize them according to their own way and can get bookmark backlinks.
Along with this link building with social bookmarking is become more important after-panda updates we know as bookmark backlinks
Social media presence and brand identity with the social profile are one of the most important search engine ranking factors.
Now if you have a social profile and you are getting a click from there to your link then your blog has a greater chance to rank on SERP.
Social bookmarking sites like-
Flipboard
Reddit
Pocket
Twitter
These are very popular sites and provide value to your blog. you can say these are very useful sites for bloggers.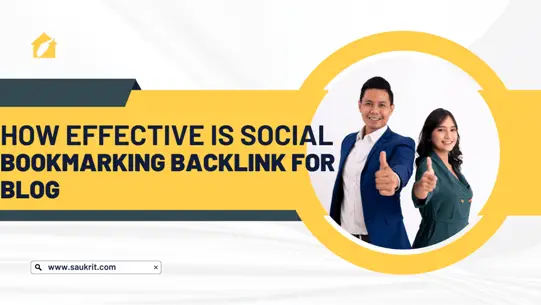 What is the social bookmarking backlink or Social Bookmark backlinks:
A social bookmarking backlink is a link from a social bookmarking site that points to a website or blog. When a user submits a link to a website on a social bookmarking site, it creates a backlink to that website. These backlinks can help to improve a website's search engine rankings, as search engines use backlinks as a way to measure the popularity and relevance of a website.
Sites that allow you to bookmark your URL and provide you backlink juice to your URL are called social bookmarking backlink websites or Social Bookmark backlinks
It's an easy and qualitative method to get quality backlinks, we all know the importance of backlinks. I hope not a single SEO practitioner can say he can get ranked any URL without backlinks.
Even SEO industry work is based on backlinks and promotes the blog economy.
Benefits of social bookmarking:
There are the following benefits of social bookmarking
Traffic from social bookmarking:
Some of the popular social sites have a large user base. and if you have a good number of followers on any platform then you can convert them to your readers on your site.
As much as you get clicks from the social site's search engine start improving your ranking on SERP.
You can use social site traffic in various ways like- promoting your blog or you can promote your affiliate link.
all the way you can make huge money.
Increased Traffic: Social bookmarking can drive traffic to a website by making it more visible to users browsing the social bookmarking site.
Improved Search Engine Rankings: Social bookmarking can help to improve a website's search engine rankings by generating backlinks, which search engines use to measure a website's popularity and relevance.
Brand Visibility: Social bookmarking can help to increase brand visibility by making a website more visible to users on social bookmarking sites.
Audience Engagement: Social bookmarking can encourage engagement and discussion around a particular piece of content by allowing users to leave comments and rate bookmarks.
Niche Audience: By submitting your content to relevant social bookmarking sites, you can reach a niche audience that is more likely to be interested in your content.
Improved Indexing: Submitting a website to social bookmarking sites can also help to speed up the indexing process of the website, which can improve its search engine rankings.
Long-term benefits: Social bookmarking can help to establish a website as an authority in a specific niche and provide long-term benefits for its SEO.
Networking: Social bookmarking sites allow users to follow other users and share bookmarks with their network, which can lead to more backlinks and more visibility for a website.
Mobile optimization: Many Social Bookmarking sites are mobile-optimized, which allows users to save and share links on the go.
Integration: Some Social Bookmarking sites integrate with other third-party tools such as browser extensions, which allow users to easily save links while browsing the web.
Branding and subscription:
Social sites can help you to do the branding of your sites. Like when they ask for a profile picture use your brand logo. provide a description of your services that will help the user to select your services.
If the user of social sites finds your blog important they will bookmark it for there self and it will improve your brand identity.
Social bookmarking is an easy way to get quality backlinks. the backlink is the most important component of SEO. Your ranking on the search engine ranking page is totally dependent on SEO.
It's better to hire an SEO expert to use social bookmarking.
Tips for effective social bookmarking:
There are the following tips that you can use while social bookmarking:
1- Mention Correct information:
Write the correct information in the bio and description. it will improve brand identity as well as improve the SEO of the website.
Because search will find the same information on every site.
2- Varify with email:
Verify your email as it helps to identify you. It proves that you are not a machine. we know nowadays various software available that spread spam.
So email verification proves the authenticity.
3- Let it be indexed by self:
Don't try to index your bookmark manually let it be by yourself. the search engine crawls all the data available on the internet if your content is there it will get indexed.
So don't do it by yourself as it leads to spamming.
Social bookmarking backlinks:
As I stated above generating link juice from social bookmarking is called Social bookmarking backlinks this is a simple and easy method to get quality backlinks.
we know nowadays it's almost impossible to rank without backlinks and domain authority.
As a result, we need to get quality backlinks and Social bookmarking backlinks fulfill our motive easily.
Popular sites list to improve domain authority:
Profile creation
Bookmarking
PDF Submission
web 2.0
Image Submission
Listing Sites In India
Article Submission
Forum Submission
Search Engine Submission
Guest Posting
Classified Submission sites
Question & Answer Websites List
Press Release Submission sites
Free Blog Sites List
Conclusion:
Guys social bookmarking is the best method to get quality backlinks. If you want to improve your website ranking you should try bookmarking sites.
I have included all the quality bookmarking sites.