There are various WordPress SEO services available on the Saukrit platform but first talk about WordPress.
WordPress is one of the largest CMS platforms used by website owners due to its simplicity. there are two platforms one is wordpress.com and the second is wordpress.org.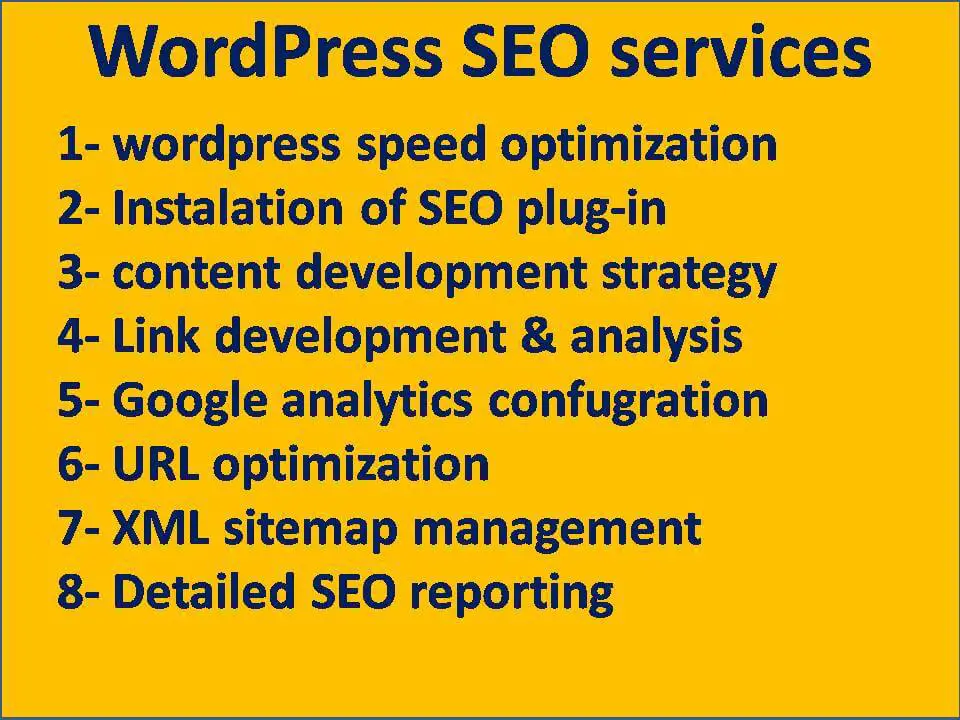 wordpress.org is a self-hosted platform where wordpress.com is powered by WordPress itself.
As we know every website requires SEO to rank within the first five of the first page of the search engine. similarly, WordPress websites also require SEO to rank.
This blog will talk about WordPress SEO services.
WordPress SEO services:
There are the following WordPress SEO services
WordPress speed optimization
Installation of SEO Plug-in
Content development strategy
Link development & analysis
Google analytics configuration
URL optimization
XML sitemap management
Detailed SEO report
WordPress speed optimization:
Speed is a search engine ranking factor that is officially announced fact by search engines. As we know users want quick results.
So our first priority is speed.
There are various speed-measuring tools available on the online platform
Like –
Etc. etc.
with these tools, you can increase downloading speed of your landing pages. that will ultimately improve the search engine ranking of your landing pages.
while providing WordPress SEO services we also help you to improve your website page speed.
Installation of SEO Plug-in:
WordPress is an awesome platform for website development. There are various easy plug-in tools available on this platform that help to improve the website.
You can select SEO Plug-in to improve SEO.
Example –
Yoast, schema markup, etc.
there are much more plug-ins available you can select all of them according to your need.
One thing I want to clear SEO can be improved without a plug-in but a plug-in makes it simple.
Content development strategy:
Content is the main part of the blog. It's your content that increases user retention by engagement. if you want to grow your blog you will have to be consistent.
Like- if you write one blog post in a week then write and post consistently every week.
consistency is the key to success.
what we provide in content development.
We provide SEO-optimized content.
What is SEO-optimized content?
content that has a good readability score along with keyword, meta tag, and title tag, called SEO-optimized content.
you can build your own content development strategy according to your suitability.
WordPress SEO services by Link-development & analysis:
Link development is the main part of of-page SEO. If you want to increase the ranking of the blog/website you should be more focused on link building.
What we do in link analysis:
We categorize links according to – domain authority and spam score
we work on high-domain authority links that boost your domain authority.
the method we use in link building are:-
Guest post
Profile creation
social bookmarking
article submission
Google Analytics configuration:
Google Analytics is the method to track your work performance. After configuration with google analytics, you can get real-time user data.
Google Analytics helps us to understand:
Unique visitors
demography
gender
used device
spend time
With these factors, we can do an analysis of the traffic we are getting on our website.
what we do in google analytics configuration WordPress SEO services:
we help you with configuration once setup is done we help you to customize the google analytics dashboard.
we provide a custom and unique google analytics dashboard.
WordPress SEO services by URL optimization:
URL optimization one another important SEO tool to improve search engine ranking.
How to optimize URLs?
Just putting the target keyword into the URL search engine will track it and improve your website ranking.
we keep the track of targeted keywords to give you the best WordPress SEO services.
Detailed SEO report:
We provide detailed SEO reports that provide all the data related to your website like:
Ranking of the website
top ten ranking keyword
top ten ranking keywords within top5
speed optimization report
keyword optimization report
backlink analysis report
competitor analysis report
all you can get is by just availing saukrit WordPress SEO services.
How do SEO services for WordPress websites work:
Hey, guy's if you have a WordPress website, we will do a detailed SEO audit, and will find out expected keywords which can rank and can beat competitors.
We do the analysis and find the keyword which can impact in a short period of time without hard work
Develop a custom WordPress SEO strategy:
Once the analysis part is done we develop a custom WordPress SEO strategy. According to the goal and industry and current position, as we know same campaign can not work for every website. that's why we design custom SEO strategies for every WordPress website.
Top searches: Profile creation site list, Article submission site list, Social bookmarking site list, Forum submission site list, guest posting site list, Unique visitors, meta tag, Search engine submission, Do-follow backlink, Google webmaster tool, SEO, Duplicate content, organic traffic, Transfer domain & hosting, Content topic research, Online aggregators, Classified submission sites list, Web 2.0 sites list, Image submission sites list, Business listing sites, Infographics submission sites, Press release submission sites.
Most searched keyword – What is a Self-Hosted Blog, Law Firm SEO Services